Start a new and memorable tradition this Christmas with PackageFromSanta.com, the ONLY Santa memory service that does it ALL! Personalized LETTERS, PACKAGES, CALLS and VIDEOS from SANTA!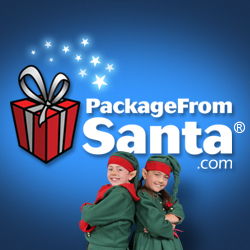 Do you want to see your children's face light up in amazement when they get a personalized letter from Santa Claus? Of course you do! This not just a letter from Santa. It's an amazing experience – it's joy, memories, wonder and happiness in a box! You can choose a specific letter theme and then customize it yourself to include details that only Santa would know!
Our package arrived in an attractive envelope showing the North Pole. As soon as the kids saw the envelope on the counter after school, they were so excited! They couldn't wait to open it up and see what Santa had sent them.
It began with a PERSONALIZED letter to both of my kids, with specific details that made them feel as if it had been written just for them! These details are entered into an easy-to-use web form when you initially order the package. Both kids loved the letter and asked me to read it a few times. The "genuine" seal from Santa made a real impact.
Plus, who can argue with an authentic "nice list" certificate? I almost hesitated to show this to the kids since I need them to be good all December, but they got a kick out it and talked about it for days like it was a badge of honor.
The final, exciting touch was a picture of Santa holding a baby Rudolph. My kids LOVE the original Rudolph show and thought the picture was so precious. They insisted that we put it on the refrigerator and talked nonstop about Santa taking care of baby Rudolph and giving him a chance by letting him lead the sleigh.
Every package also comes with a FREE personalized CALL and VIDEO FROM SANTA that can be scheduled any time. This techy part of the PackageFromSanta.com was unreal! So surprisingly well done and high-end and my kids LOVED it!
It's such a joy to see my children continue to BELIEVE and PackageFromSanta.com really helped make the magic happen in my household this year! So grateful!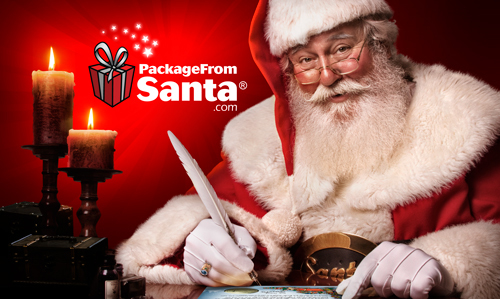 PFS has an A+ Rating with the BBB due to their unmatched high-touch customer service so you can be confident that you are making a wise purchase. They have real people on the phone ready to help answer questions. That's unheard of these days! Such a nice touch.
Click here to see a video to learn more about this very special Santa memory service that will be a part of my family for years to come!
The Silver Package ($24.95) comes in a red box & includes:
Personalized Letter from Santa
BONUS! Personalized Video from Santa (retail $9.99)
BONUS! Personalized Phone Call from Santa to a cell phone OR land line! (retail $9.99)
Personalized Nice List Certificate
Autographed Santa Claus Photo
Autographed Rudolph Photo
Genuine North Pole Stamp
…and so much more!
It also comes with a 60-Day Money-Back Guarantee. Wow! They are THAT confident your child will LOVE it!
There are 3 different packages offered, so you can choose a price point that works with your budget. I reviewed the Silver package ($29.95).
Order this holiday must-have for your child here and save 25% OFF your order when you use FAMS17 at checkout.
Click here to see a video to learn more about this very special Santa memory service that will be part of my family for years to come."