Magic of Lights is a festival of twinkling, magical holiday lights! A 200-foot light tunnel and over 40 Scenes of holiday lights displays is featured during Magic of Lights, the unique and thrilling family-friendly drive-through holiday lights festival spread over a 1-2 Mile course. We decided to kick off the holiday season last weekend by attending, and it was a fantastic way to get in the festive spirit!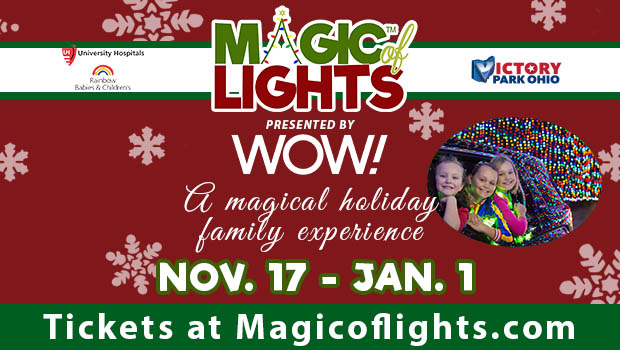 Magic of Lights is a wonderful family outing and easy to attend. Featuring a well-designed course experience and accessible winding roads, the friendly, helpful staff assists and guides guests through this holiday adventure.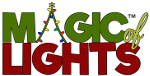 Magic of Lights features a variety of festive scenes. We began by slowly guiding our vehicle through the winding 1-2 Mile course to view sparkling LED displays depicting the favorite characters of the season, including animated snowmen, elves, poinsettias, candy canes, and more!
Displays ranged from the traditional (a visit to Bethlehem to see classic scenes of the shepherds and the angel visit, the three wise men and the baby Jesus in the manager) to the whimsical (a visit to a Victorian village during Christmas time). My family especially loved the "12 Days of Christmas" section and we sang each line of the famous song as we passed by the lighting displays. We also got a kick out of some of the non-traditional displays, including a light-up construction site (my son loved this) and an entertaining view of Santa riding a motorcycle up a ramp and doing a flip over a valley of candy canes! Of course, the highlight was the 200-foot tunnel at the end of the experience. My kids were awed by the feeling of being encased in thousands of LED lights, especially when we looked up through the sun roof and could see the lights above us, too!

If you're looking for a fun way to feel festive (and bonus: entertain the kids while they are safely strapped into their car seats!), then the Magic of Lights exhibit at Victory Park is for you! North Olmsted and all of its shopping/dining options are nearby, too, so you could combine a holiday shopping/dinner outing with a visit to the display. Click here for more information and to order tickets.